When patients come to LOVA Health, in Richmond Heights, with back pain, our goal is to determine the reason you are having back pain and help develop a plan to stop the pain and keep it from coming back. 
At LOVA Health, we take an integrative approach and perform a complete orthopedic, neurologic, and musculoskeletal examination to understand your back pain and know how to best treat it for a successful outcome.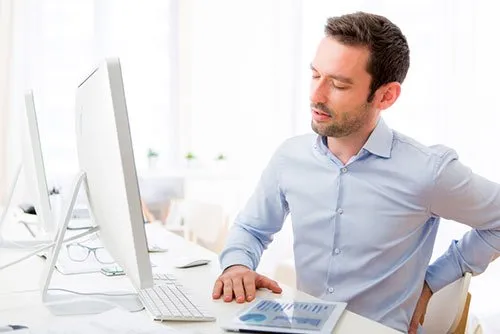 Patients who visit our chiropractic office for back pain usually complain of the following:
Deep aching pain

Sharp stabbing pain

Difficulty bending due to back pain

Pain while sitting or standing

Pain shooting down their leg (sciatica)

Numbness or tingling discomfort
Back pain can be caused by any number of events, including:
Overuse or repetitive activity

Prolonged sedentary activity

Trauma or accident

Sports or athletic injuries

Poor sleep

Stress

And, many more
Why should you come to LOVA Health for back pain?
When you are experiencing back pain, it can be a very unsettling time, leaving you with many questions while struggling with discomfort.  Back pain can be confusing, and without proper diagnosis and treatment, you may be having to deal with pain much longer than you would like. At LOVA Health, we will take the time to listen to you, explain to you what the problem actually is, and make a plan to accomplish your health goals.
Why should you see a chiropractor for back pain?
Chiropractic is a safe and effective approach to assess and treat conditions relating to the spine. Chiropractic aims to restore motion to areas of the spine that are restricted and are causing adverse effects such as pain, loss of range of motion, decreased performance, and many more. 
At LOVA Health, chiropractic care is used on a routine basis to assess the current condition of your spine and joints and help ensure they are working correctly.
Treatments for back pain
At LOVA Health, we offer the best in alternative health care services, including:
Manual Therapy Techniques 
Each individual is given a tailored treatment plan to meet their needs and expectations from care.
Chiropractic to treat back pain
Spinal manipulation has been shown through research to effectively treat lower back pain and issues relating to the spine. We perform specific joint manipulations and mobilizations to ensure we return proper mobility and range of motion to the spine, which will result in the decrease of pain.
Acupuncture to treat back pain
Acupuncture is the world's oldest health profession dating back thousands of years. Much research has been conducted in recent years, and the profession has evolved into many different styles of acupuncture. Acupuncture is the method of inserting very thin filiform size needles into the skin and muscle to stimulate or release the body's own healing potential. At LOVA Health, we perform many styles of acupuncture, including orthopedic acupuncture, electro-acupuncture, dry needling, and traditional Chinese medicine (TCM) acupuncture.
Physical Therapy to treat back pain
Physical therapy is used to diagnose a physical abnormality, restoring physical function and mobility, maintaining physical function, and promoting physical activity and proper function. At LOVA Health, we implement specific physical therapy exercises to regain either loss of mobility and stability in proper body regions to restore optimal physical function for that individual.
Manual Therapy Techniques
IASTM – Instrumented Assisted Soft Tissue Mobilization
IASTM involves using a range of tools to enable clinicians to locate and treat individuals diagnosed with soft-tissue dysfunction efficiently. A soft-tissue injury involves damage to the muscles, ligaments, tendons, and/or fascia somewhere in the body. 
Common soft-tissue injuries usually occur from a sprain, strain, blow to the body resulting in a contusion (ruptured blood vessels/bruising) or overuse of a particular body part. 
Soft tissue injuries can result in pain, swelling, bruising, and loss of function. Adhesions within the soft tissue may develop due to repeated strain, surgery, immobilization, or other mechanisms.
FDM – Fascial Distortion Model
The Fascial Distortion Model (FDM) is an anatomical perspective, originated by US physician Stephen Typaldos, D.O., in which "the underlying etiology of virtually every musculoskeletal injury (and many neurological and medical conditions) is considered to be comprised of one or more of six specific pathological alterations of the body's connective tissues (fascial bands, ligaments, tendons, retinacula, etc.).  
As a model, the FDM is an abbreviated interpretation of the pathology of fascial injuries and contemplates the structural consequences of orthopedic, medical, surgical, and manipulative interventions.
Cupping
Cupping therapy is an ancient form of alternative medicine in which a therapist puts special cups on your skin for a designated amount of time to create suction. People get it for many purposes, including to help with pain, inflammation, blood flow, relaxation, and well-being, and as a type of deep-tissue massage.
What to expect?
On your very first visit to LOVA Health in Richmond Heights, you will receive a dedicated hour for a proper and thorough consultation, examination, and a report of findings from our providers. 
After you receive your report of findings, we will recommend specific treatments for your issue and outline a treatment plan that consists of a projected timeline for recovery, expected progressions, and when you should schedule your next appointment. 
Our mission is to help you understand the issue you are experiencing and what is the best course of treatment to get you out of pain and on your way to returning to performing at your best.
Videos of exercises for back pain and sciatica
This review is long overdue. Dr. Furman is a miracle worker! As a 26-year-old working in an office, my back began to hurt more and more each day. Considering myself to be someone who is pretty active outside of the office, the pain became very aggravating. From the very 1st visit with Dr. Furman, my life has changed for the better. He not only helped relieve the pain almost immediately but also began working with me on exercises/stretches I could do on my own to keep the issues from reoccurring. His goal from the beginning is to make sure he doesn't have to see you again in the future, and does everything he can to make sure you receive quality care. Thank you Dr. Furman for everything!
I had surgery in 2013 on a herniated disc. I had the same injury last year and thought that a surgery was yet again inevitable. Someone told me about Dr. Furman so I decided to give it a try. Let's just say I wish I heard of him in 2013. He kept me off the surgery table and my back and neck are feeling better than ever. I see him once or twice per month and he gives me new exercises to strengthen my core and keep my spine safe. He gets to the root of the problem, doesn't just give temporary fixes. He's at the top of the chiropractor game in St. Louis. I wouldn't see anyone else. Thank you Dr. Furman, from me and my family.
I hurt my back over a year ago and struggled to find a doctor who was able to address my pain. I struggled to sit up and stand. And getting in and out of a car and bed was very hard. Many of the doctors I went to wanted to just prescribe medicine and other temporary measures. Nothing that addressed the root issue.
I was so happy to find Lova Health and Lev. Lev not only looks at the injury but the surrounding muscles/bones/nerves. His methods brought me both instant relief and have provided me long-term relief. He is always taking new classes and is on top of new procedures to try. All with the goal of making sure his patients remain healthy.
I went from not being able to squat/deadlift/being unable to stand or sit for long periods of time to now where I can deadlift and squat with ease and recently took a road trip where I had to drive for 15+ hours. I would not have been able to do this before Lev.
I definitely recommend checking him and his practice out! Whether you have an injury or are just looking for a place to help maintain!