Neck pain is one of the most common complaints we treat here at LOVA Health.
The neck or cervical spine comprises a network of nerves, bones, joints, and muscles.
It provides support and mobility for your head but may become painful due to many issues.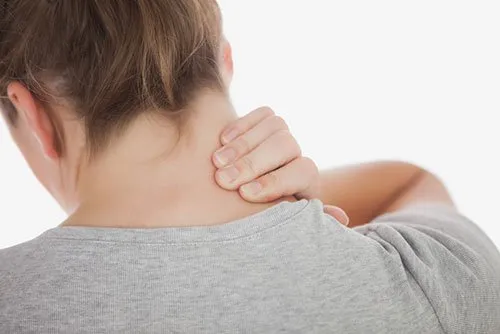 Patients who visit our Richmond Heights chiropractic clinic for their neck pain usually complain of one or more of the following:
Pain when turning head from side to side

Pain when sleeping or waking up with pain

Loss of range of motion

Pain while working at their desk and looking at their computer screen
Neck pain can be caused by any number of events, including:
Repetitive strain/sprain

Poor posture

Prolonged sitting or inactivity

An auto accident

Sports or athletic injury

Text neck

And, many more
Why come to LOVA Health for neck pain?
Because we use our neck in just about every activity, we perform daily. It can be very frustrating when we do not have full function due to pain. 
Our necks are comprised of so many vital structures, and we want to take the proper set of steps to achieve relief.
At LOVA Health, in Richmond Heights, we are able to take a thorough evaluation to determine where your pain may be stemming from and how to treat it best using the latest therapies to mitigate pain and return you to full activities.
When we experience pain, our body tells us there is an issue, and we should seek proper help. At LOVA Health, we will offer chiropractic adjustments, manual soft tissue release, acupuncture, and therapeutic exercises to reduce the pain and get you back to full function.
If you're experiencing any of the following symptoms, you should make an appointment to see us:
Sharp or intense neck pain

Muscle tightness and spasms

Pain radiating from your neck to other body regions

Decreased ability to turn your head

Numbness, tingling, or weakness

Tension headaches
How can LOVA Health help with your neck pain?
LOVA Health offers a variety of specialized treatments to ensure your neck pain receives proper treatment and corrects the problem. 
Each individual is given a tailored treatment program consisted of a plan to help you return to a pain-free life.
Videos of exercises/stretches for neck pain
Love the LOVA Health Team!
Dr. Lev and Vanessa are both amazing at what they do. I came in with intense shoulder and neck pain, and within a few visits with both of them, I felt so much better and had my mobility back. On top of the great in-office care, they gave me tips and exercises to do at home. My pain has gone away, but I plan on coming back for adjustments and soft tissue work on any problem areas when they come up. I also really loved the dry needling done by Vanessa. I would recommend anyone with tight knots in their muscles to give it a try.
I came to him with neck and shoulder pain. We worked through a series of acupuncture and deep tissue massage sessions. I think 4 total.
I'm feeling so much better and getting my range of motion back while doing the exercises he provided.
I would recommend LOVA to anyone who needs relief and wants to get back to a normal life of activity without pain.
I randomly stumbled across Dr.Furman through Groupon, but I have to say, I am highly impressed. Impressed enough to randomly be thinking today that he really is deserving of a good review. I am so happy to see that all of his other reviews are of similar experiences.
He takes his time to really evaluate your issues and what your day-to-day life is all about to help find a better long-term solution to your problem. He isn't just a chiropractor who will crack you and send you on your way and tell you to come back in a week to do it all over again. He really wants to help fix our problem, even if that means that we might not need his expertise anymore once we are up and running again.
I recommend him to anyone and everyone who has seemed to have tried every other way to relieve their pain with no avail. He might not pop you, but I'm sure whatever he'll do is in your best interest.